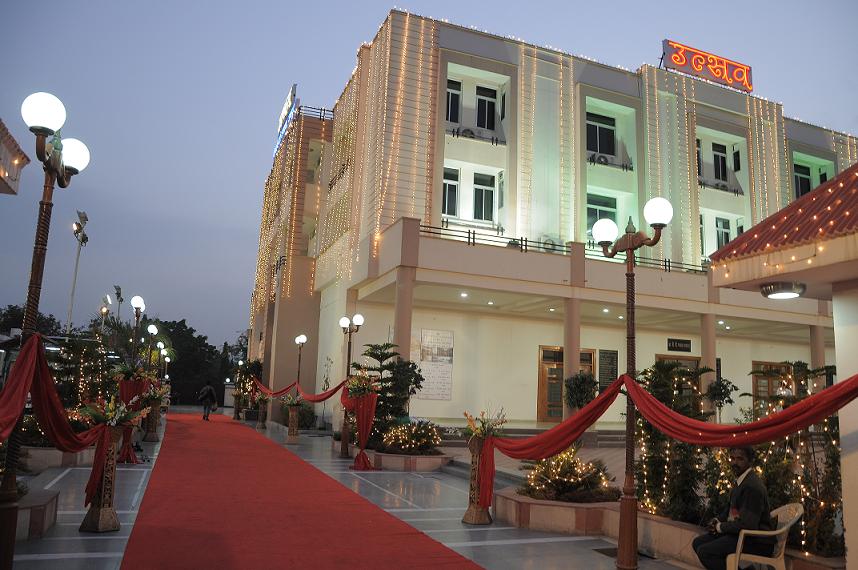 Utsav Janupyogi Bhavan - Shri Maheshwari Samaj Jaipur
Utsav is a fully furnished Place that can be used for Marriage Functions ,Conferences , Meetings ,Summer Camps , Birthday Parties , Seminar, Devotional Programs like Bhagwat Ji and for more
Utsav Marriage Hall By Shri Maheshwari Samaj Jaipur is a sprawling space with centrally air-conditioned banquet halls. The beautiful hall can accommodate 1000+ guests.
The food and beverage services make sure guests relish delectable cuisines. A professionally managed team is present to cater to a customer's requirements and ensure the event is a memorable one.
Custom Catering Facility available on request.
Utsav built in the Area of Approx. 5000 Sq .Mtr . with Three Floor Building , 40 Well Fully Furnished AC Rooms

Two Passenger Lifts and One Service Lift for luggage .

AC Banquet Hall Upto 1000 People

Huge Lawn upto 1000 People

One mini AC Hall,Dining Hall , Kitchen at Each Floor .

Tents , Caterers ,Decorators , Event Managers Wedding makers are available.

Two functions can be done at a time with all facilities.

Utsav is available for Everyone those wants to organize any types of functions.

Well managed Underground Parking facility.
Special discount (40%) for Maheshwari Peoples with pre reservation.

Special discount (40%) on rent of materials like Fixed electric decoration, Music system, deep fridge etc.

Special discount (50%) for devotional programs for a booking of more then 5 days.

For more details Log on to http://utsavjaipur.com
Utsav Jaipur Location :
Utsav, Shri Maheshwari Samaj Jan upyogi Bhavan Jaipur
P-10, Sector 2, Vidyadhar Nagar Jaipur
Click here to see on Google Map
Utsav Jaipur Contact Number :
Contact : 0141-2236743, 44, 67
Fax No. : 0141-2236745
---